April 5, 2017
Malcolm Cochran, Professor Emeritus, Department of Art International Sculpture Center's Outstanding Educator Award for 2017
Image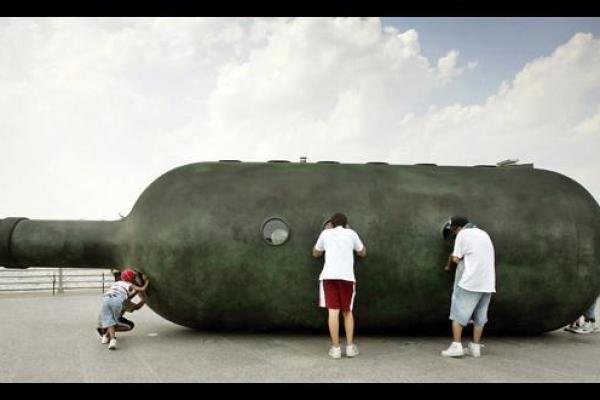 Description
Malcolm Cochran, Professor Emeritus, Department of Art, receives recognition for his teaching with an International Sculpture Center's Outstanding Educator Award for 2017. The member-supported, nonprofit ISC established the Outstanding Educator Award program in 1996; winners are selected based on their career combining their personal artistic practice and measurable academic performance.
Cochran taught at The Ohio State University in the Department of Art in Foundation Studies and Sculpture for 27 years before retiring in 2013. During his tenure at OSU it was clear that he was an extraordinary educator, teaching students from Foundation up to Graduate level with the same diligence and attention to their work, supporting and pushing them to achieve their goals. Carmel Buckley and Todd Slaughter, both Professors in the Department of Art at OSU who worked closely with Cochran spoke of his unique ability as a teacher to draw out the best in his students, his enthusiasm for the field of sculpture, and his desire to inspire the next generation of artistsSince the late 1970s over the course of his artistic career Cochran has created large-scale sculptures, installations, and site-specific public art, and has exhibited nationally and internationally. Many central Ohioans will know his site-specific public art work through Field of Corn (with Osage Orange Trees) in Dublin, the Goodale Park Fountain, and In Principle & in Practice at the Ohio Judicial Center. These works set a standard for public art in the national sphere. He has also exhibited at the Wexner Center in Columbus, The Cleveland Center for Contemporary Art, and the Weston Art Gallery, Cincinnati, among other venues in Ohio.
In arriving at his philosophy of teaching Cochran has said "What happened for me, because I hadn't taught right out of grad school, is that I knew a lot and had made a lot, but I needed to figure out how to codify what I knew. Being able to articulate and break down the things that I saw that were important to pass on to students meant that I was clarifying them for myself in a way that I wouldn't have if I hadn't been teaching."
"I love teaching, but you never think of an award like this," Cochran said. "One of the nicest things about it is that, while anybody can submit a nomination, in this case, it was done by a former undergraduate student of mine. I didn't know he was doing it until I got a message from the ISC out of the blue."
To be nominated Cochran had to articulate his teaching philosophy and solicit supporting letters. "The fact that the nomination came from a former student and that the people who wrote for me are all former students…when you write and say, 'Would you write a letter of recommendation?' and they say, 'Absolutely, I can't think of anybody who would deserve it more,' that feels pretty good. It's a validation," he said.
It goes without saying that an award from ISC has never been a motivator for Cochran's excellent teaching practice. "I wanted to be a good teacher, but you can't walk into a classroom and think, 'Boy, if I'm really good today, I might get an award,'" Cochran said.
Rebecca Harvey, Chair of the Department of Art at Ohio State was understandably thrilled with the news of the recognition. "I had the great pleasure of working with Malcolm for many years, he was and continues to be  an artist and teacher of the highest integrity; engaged and awake and alive in a way that inspires students and collegues alike. He is a rare treasure."

"The unanimous vote for the selection of Malcolm Cochran as the award recipient from this large pool of applicants is a testament to the dedication and excellence demonstrated by this educator," ISC said in announcing the award.

Cochran will be the subject of a feature article in the October issue of ISC's Sculpture magazine, as well as on the ISC website at sculpture.org. CCAD, OSU, and ISC are organizing an award ceremony in Columbus to coincide with the publication. For the past three years Professor Cochran has been working with students at the Columbus College of Art and Design. The two institutions are looking to joining forces to celebrate this fantastic artist and educator.
---