January 17, 2017
Carmel Buckley - Sparrow Come Back Home
Image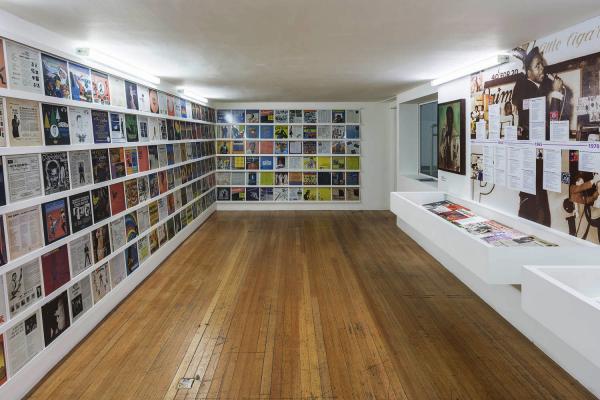 Description
Professor Carmel Buckley, along with Mark Harris, have a current exhibition at the Institute of Contempory Arts in London until February 5, 2017. 
THE ICA'S new Sparrow Come Back exhibition works around a novel idea, that of transforming dozens of album covers by the great calypsonian Mighty Sparrow into LP-sized ceramic tiles, arranged around two walls as if in an old-fashioned record shop.
The dozens of albums — displayed front and back — provide a fascinating insight into the breadth and depth of the 81-year-old Trinidadian's work, which has proudly upheld his long-established duty of commenting on social and political issues of the day.
Set out chronologically from left to right, the song titles on the covers neatly chronicle the preoccupations of various eras, showing how Sparrow's focus has extended from inward-looking concerns about colonial-era iniquities in mid-1950s Trinidad through to thoughts on the wider post-independence challenges of the Caribbean in the '60s, along with broader global consideration of racial issues in the wake of the civil rights and black power movements and the era of unfulfilled expectations that followed.Sparrow Come Back Home, a new exhibition at London's ICA, takes the music and life of "calypso king of the world" Mighty Sparrow as its subject.
Reviews from several sources have praised the exhibition:
The Guardian Guide, online – Dec 30th 2016
https://www.theguardian.com/culture/2016/dec/30/ten-best-things-this-week-culture
Gloria Nieto, Trinidad Express, "'Calypso Dreams' showcased in London," December 17th, 2016
http://www.trinidadexpress.com/20161217/features/calypso-dreams-showcased-in-london
Bryony Stone, It's Nice That, "Carmel Buckley and Mark Harris dissect the album covers of calypso singer Mighty Sparrow," December 6th 2016
http://www.itsnicethat.com/articles/carmel-buckley-mark-harris-ica-sparrow-come-back-home-061216
---