August 15, 2016
Carmel Buckley-Humanities and Cognitive Sciences Summer Institute
Image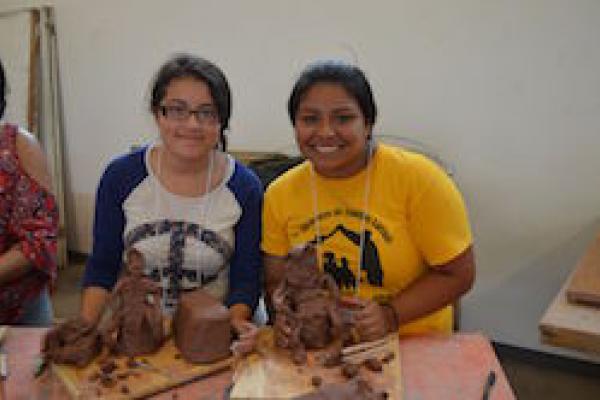 Description
Professor Carmel Buckley led a sculpture workshop for attendees of the third annual Humanities and Cognitive Sciences High School Summer Institute last week. The Summer Institute is an interdisciplinary collaboration of professors, developing its activities in partnership with OSU's Office of Diversity and Inclusion and the Center for Cognitive and Brain Sciences. During the Summer Institute students learned about the correlation of brain sciences and the humanities.  Professor Buckley's hands-on workshop focused on helping students see the connection between the creation of sculpture and brain activity. During this interactive workshop students modeled a clothed figure in clay, which helped students apply critical thinking skills to the creation of art.
Professor Buckley was assisted by undergraduate students Audrey Galat and Sarah Ketron, along with Andrew Newbold, Sherman Studios Tech who helped make this workshop a success.
Sharing her thoughts after the workshop, Buckley stated that she was honored to be included as a faculty member for this program and felt the partnership between art and other disciplines could open a variety of doors for future cross-disciplinary collaborations.
---