October 25, 2017
High Resolution 3D Scanning Supports Student and Faculty Research
Image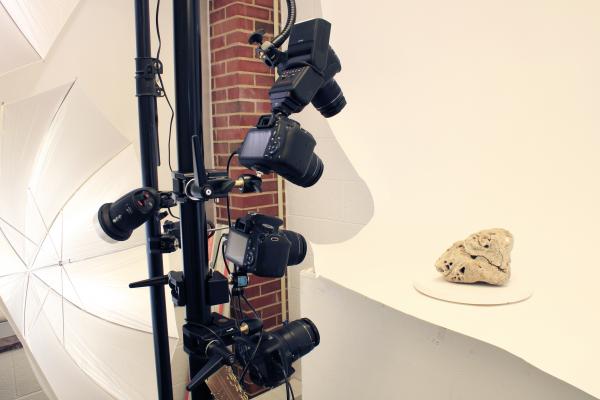 Description
The Department of Art is home to a new 3D scanning lab that is helping artists bridge the gap between the real and virtual worlds. Now students can gain experience with this emerging skill set while they work with a multi-camera photogrammetry scanning stage and learn how to produce high resolution 3D models from real world objects.
Thanks to the work of various contributors, including our rock-star undergraduate interns, we have a system in place to produce reliable, high quality scans. These scans are being created and used by students, faculty, and staff in their own research. All research was done in the Department of Art utliizing students from both Art and the Department of Design. 
The photogrammetry lab, located in Hopkins Hall, was created earlier this year by Andrew Frueh, Instructional Lab supervisor, who regularly works with students and faculty in our digital fabrication studio. He saw a need for artists to capture real world objects -- both to assist them as they learn 3D modeling, and as a more efficient way to create stunning and hyper-realistic virtual experiences.
---