Image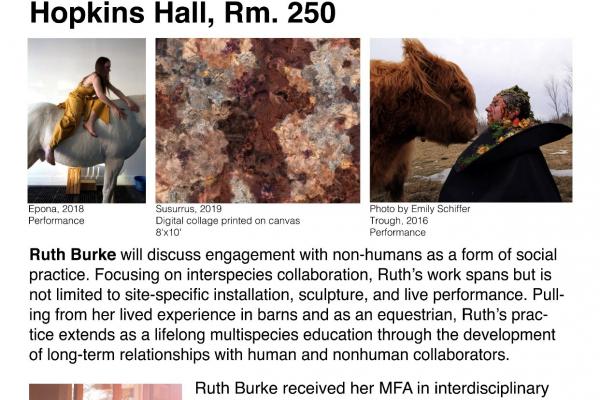 January 23, 2020
All Day
Location
250 Hopkins Hall
Description
Visiting Artist: Ruth Burke
Ruth Burke will discuss engagement with non-humans as a form of social practice.  Focusing on interspecies collaboration, Ruth's work spans but is not limited to site-specific installation, sculpture, and live performance.  Pulling from her lived experience in barns and as an equstrian, Ruth's practice extends as lifelong mutlispecies education through the development of long-term relationships with human and nonhuman collaborators. 
Ruth Burke received her MFA in interdisciplinary studio art from the University of Michigan in 2017, and is now a full-time professor in the School of Art at Bowling Green State University.  Solo exhibitions of her work have been shown across the United States and Turkey, with her most recent show on display in Cleveland, Ohio in 2020. 

*This event was made possible by the Graduate Student Art Club. 
---