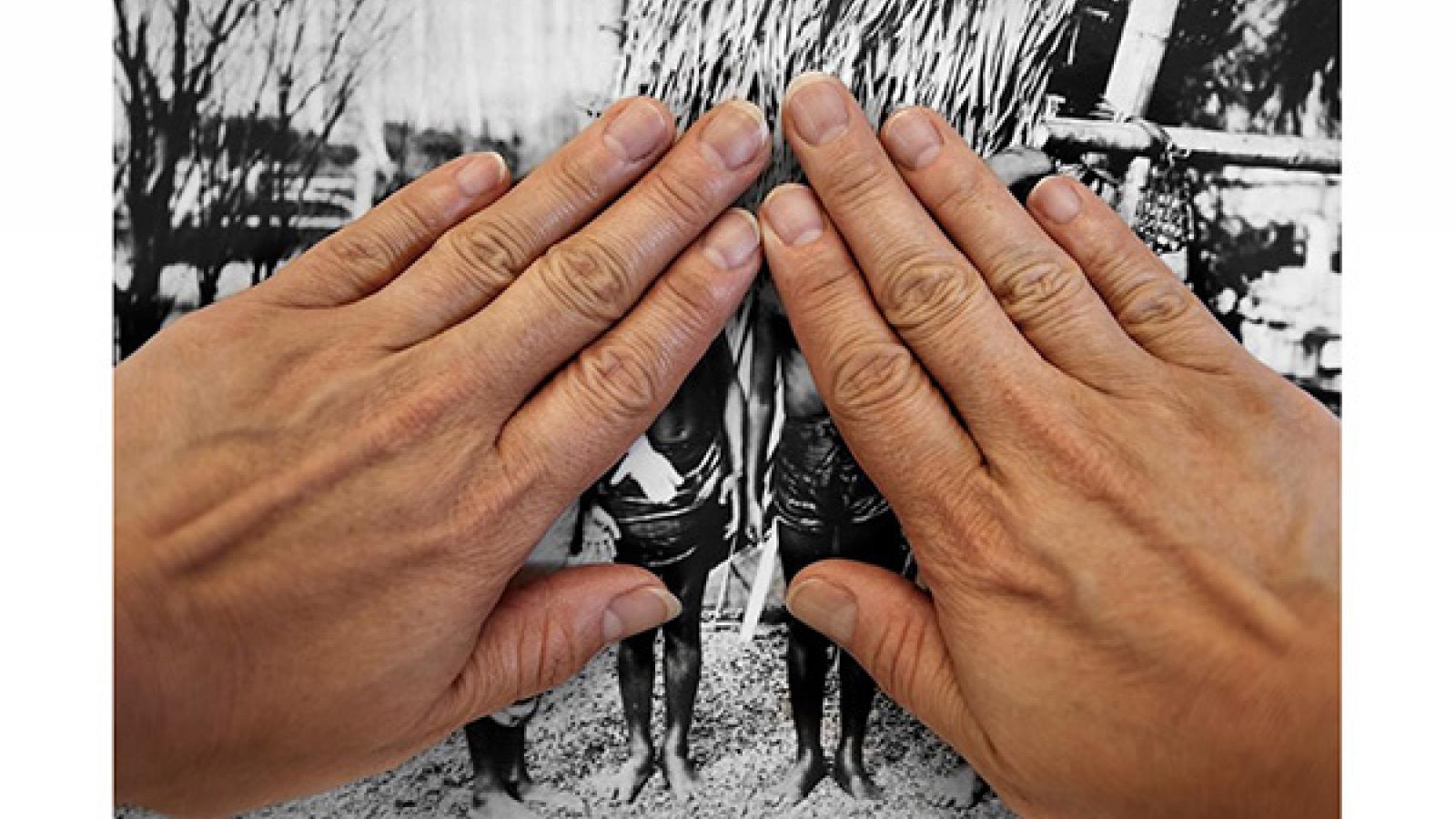 Body
Diversities in Practice
Diversities in Practice is a collaboration with Ohio State's Wexner Center for the Arts, Department of Art, and Living Culture Initiative. This series includes talks and moderated discussions featuring a range of artists, thinkers, and practitioners engaged in compelling and critical work, centering projects ​that examine, shape, and push both material and ideological boundaries. This season we are happy to present Jonathan Berger, Torkwase Dyson, Cauleen Smith, Carolyn Lazard, Constantina Zavitsanos, and other artists who ​offer new insights and challenge our assumptions on issues of accessibility discrimination, race-based displacement, capitalism, labor, and systems of authority, and authenticity. These presentations will be available online throughout 2020–21. ​Also available online are talks from 2020 with Christine Sun Kim, Stephanie Syjuco, Tomashi Jackson, Earlonne Woods, and Nigel Poor. Check wexarts.org for updates and details.
Spring 2021 Talks
Image: Jonathan Berger, Photo: Tikam Chand
An Introduction to Nameless Love
//Thursday, Feb. 4 at 7pm
Streaming through Wexner Center for the Arts website
This talk presents the five-year process of making the exhibition An Introduction to Nameless Love, which was co-commissioned by the Carpenter Center for Visual Arts at Harvard University and Participant Inc New York. 
JONATHAN BERGER's work centers around the practice of exhibition making, encompassing a spectrum of activity concerned with a rigorous investigation of the many ways in which the exhibition site can be repurposed and the subsequent potential for that site to allow for an expansion and reconsideration of what art can be and how it can be made. 
Moderator, THOMAS J. LAX is Curator of Media and Performance at the Museum of Modern Art. He is on the board of Danspace Project, and is a 2019–20 Queer Art Curatorial Mentor. A native New Yorker, Lax holds degrees in Africana Studies and Art History from Brown University and Columbia University. He teaches at Wesleyan University's Institute for Curatorial Practice in Performance.
---
//Thursday, March 4 at 7pm
Streaming through Wexner Center for the Arts website
Through working in multiple forms, Dyson describes herself as a painter of compositions constructed to address the continuity of space, movement, scale, geography, and architecture. For Dyson, these subjects in relationship to each other produce questions of abstraction that point to ideas of autonomy, environmental liberation, and perception. 
TORKWASE DYSON considers spatial relations an urgent question both historically and in the present day. Through abstract paintings, Dyson grapples with ways space is perceived and negotiated, particularly by Black and brown bodies. Explorations of how the body unifies, balances, and arranges itself to move through natural and built environments become expressive and discursive structures within the work. 
Moderated by: Sandhya Kochar and Ann Hamilton
SANDHYA KOCHAR is Senior Lecturer in the Department of Architecture at The Ohio State University
ANN HAMILTON is Distinguished University Professor in the Department of Art at The Ohio State University
---
//Thursday, March 18 at 7pm
Streaming through Wexner Center for the Arts website
In the next Diversities in Practice talk, interdisciplinary artist Cauleen Smith revisits film/video and installation works that speak to the pressures currently affecting us all.
More about the speakers
Cauleen Smith
Cauleen Smith's interdisciplinary work reflects on the everyday possibilities of the imagination. Rooting her work firmly within the discourse of mid-20th century experimental film while also drawing from structuralism, third-world cinema, and science fiction, she makes things that deploy the tactics of activism to serve ecstatic social space and contemplation. Based in Chicago, Smith is contractually obligated to list the following and does so gratefully: she is the recipient of Rockefeller Media Arts Award, Creative Capital Award, Chicago 3Arts Award, Foundation for Contemporary Arts Grant, Chicago EXPO Artadia Award, Rauschenberg Residency, Herb Alpert Award in the Arts in Film/Video 2016, and United States Artists Award 2017. She is also the 2016 inaugural recipient of the Ellsworth Kelly Award and the 2020 recipient of the Studio Museum Joyce Alexander Wein Artist Prize. She is represented by Corbett vs. Dempsey. Read more.
Treva Lindsey
Dr. Treva Lindsey is an associate professor in Ohio State's Department of Women's, Gender and Sexuality Studies. Her research and teaching interests include African American women's history, Black culture and feminism(s), hip hop studies, critical race and gender theory, and sexual politics. Her first book, Colored No More: Reinventing Black Womanhood in Washington, D.C was a Choice 2017 "Outstanding Academic Title." She is currently completing her next book, America Goddam: Violence, Black Women, and The Struggle for Justice (University of California Press 2022).
Lindsey is the recipient of numerous grants, fellowships, and awards. She is a 2020–21 ACLS/Mellon Scholars and Society Fellow, received the 2018–19 Ohio State College of Arts and Sciences Diversity Enhancement Faculty Award, and was the inaugural Equity for Women and Girls of Color Fellow at Harvard University (2016–17), among other recognitions from the Woodrow Wilson Foundation, The Andrew W. Mellon Foundation, Emory University, and the National Women's Studies Association.
Lindsey has published in The Journal of Pan-African Studies, Souls, African and Black Diaspora, African American Review, and The Journal of African American History, and she contributes to Time, CNN, Al Jazeera, BET, Vox, Huffington Post, Billboard, Bustle, Washington Post, Women's Media Center, Zora, and Cosmopolitan, among many other outlets. Read more.
---
CAROLYN LAZARD AND CONSTANTINA ZAVITSANOS
Call Me (Coming Back Home) Moderated by Alice Sheppard
//Thurs., April 8, 7pm
Register for the Zoom event through Wexner Center for the Arts website; with ASL and ADA support
Carolyn Lazard and Constantina Zavitsanos (currently featured in Climate Changing) join us for the latest Diversities in Practice talk. They will share works and take part in a conversation with dancer and choreographer Alice Sheppard and others from the cross-disability arts community who will call in to discuss call-and-response art practices.
Carolyn Lazard is a multidisciplinary artist and writer based in Philadelphia and New York. They have exhibited work in various institutions including Palais de Tokyo, Paris, France; Kunstverein München, Munich, and Museum fur Moderne Kunst, Frankfurt, in Germany; MIT List Visual Arts Center, Cambridge, Massachusetts; Institute of Contemporary Art, Philadelphia; Yerba Buena Center for the Arts, San Francisco; Walker Art Center, Minneapolis; and The Whitney Museum of American Art, The Kitchen, and the New Museum in New York. With Constantina Zavitsanos and others, they coorganized the cross-disability arts events "I Wanna Be With You Everywhere" at Performance Space New York. Lazard has published writing in the Brooklyn Rail, Mousse Magazine, and Triple Canopy. They hold a BA from Bard College and an MFA from the University of Pennsylvania. Read more.
Constantina Zavitsanos works in sculpture, performance, text, and sound to elaborate what's invaluable in the re/production of debt, dependency, and means beyond measure. Zavitsanos has exhibited at the Brooklyn Museum, New Museum, Artists Space, The Kitchen, and Participant Inc. in New York; at Arika in Glasgow, Scotland; and at Haus der Kulturen der Welt in Berlin, Germany. With Park McArthur, they coauthored "Other Forms of Conviviality" in Women and Performance (Routledge, 2013) and "The Guild of the Brave Poor Things" in Trap Door: Trans Cultural Production and the Politics of Visibility (MIT Press, 2017). With Carolyn Lazard and others, they coorganized the cross-disability arts events "I Wanna Be With You Everywhere" at Performance Space New York. Zavitsanos is a 2021 recipient of the Roy Lichtenstein Award in Visual Arts from the Foundation for Contemporary Arts. They live in New York and teach at the New School. Read more.
Alice Sheppard resigned her tenured professorship to train with Kitty Lunn and Infinity Dance Theater. Sheppard joined AXIS Dance Company where she became a core company member, toured nationally, and taught in the company's education and outreach programs. Since becoming an independent dance artist, she has danced in projects with Ballet Cymru/GDance and Marc Brew Company in the United Kingdom. In the United States she has worked with Marjani Forté, MBDance, Infinity Dance Theater, and Steve Paxton. As a guest artist, she has danced with AXIS Dance Company, Full Radius Dance, and MOMENTA Dance Company.  Sheppard has also performed as a solo artist and keynote academic speaker throughout the United States.
Sheppard is the founder and artistic lead for Kinetic Light, a project-based ensemble working at the intersections of disability, dance, design, identity, and technology to create transformative art and advance the intersectional disability arts movement. A USA Artist, Creative Capital grantee, and Bessie Award winner, she creates movement that challenges conventional understandings of disabled and dancing bodies while attending to the complex intersections of disability, gender, and race. Her writing has appeared in the New York Times, Catalyst, and Movement Research and Performance Journal. Read more.
[Image Description: Two video stills are next to one another echoing each other with only slight differences in texture and minor shifts in color. The first still hosts a solid black background with white captions on a subtle dark grey block that
state: "just tell me the details you do remember." The video still on the right hosts a dark rocky asphalt ground with flecks of mica; it feels like looking down at a road. Open captions in yellow read: "Tell me the details of what you do remember."]
---
Autumn 2020 Talks
Title Zero
// Friday, October 2nd, 3pm
Register for the Zoom event through Wexner Center for the Arts website; with ASL and ADA support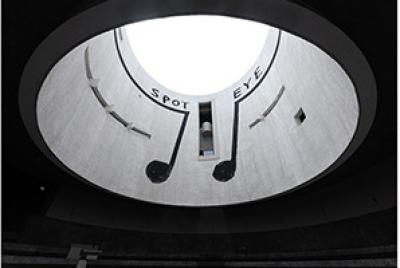 ZAIYE STUDIO AND WHITE SPACE BEIJING
In her talk Title Zero (a Deaf English loanword for "no title"), Berlin-based artist Christine Sun Kim will share multiple projects that visualize, critique, and contextualize how sound operates in her life and work, as well as its relationship to her Deaf and hearing collaborators, family, and friends.
Her TED talk: The Enchanting Music of Sign Language
Christine Sun Kim uses the medium of sound in performance and drawing to investigate her relationship with spoken languages and her aural environment. Kim has presented exhibitions and performances at such venues as the MIT List Visual Arts Center, Cambridge, MA (solo); Ghebaly, Los Angeles (solo); White Space, Beijing (solo); De Appel, Amsterdam (solo); Sound Live Tokyo; Albright-Knox Art Gallery, Buffalo; Walker Art Center, Minneapolis; Berlin and Shanghai Biennials; San Francisco Museum of Modern Art; Whitney Museum of American Art, New York; and the Museum of Modern Art and MoMA PS1, New York. More on Christine Sun Kim.
Moderators: Johanna Burton & Marla C. Berkowitz
Johanna Burton is the director of the Wexner Center for the Arts. Burton has curated or cocurated exhibitions including Sherrie Levine: Mayhem at the Whitney Museum of American Art, New York (2011); Haim Steinbach: once again the world is flat at the Center for Curatorial Studies at Bard College, Annandale-on-Hudson, New York (2013); Take It or Leave It: Institution, Image, Ideology at the Hammer Museum, Los Angeles (2014); and, at the New Museum in New York, XFR STN (2013), Cheryl Donegan: Scenes and Commercials (2016), Simone Leigh: The Waiting Room (2016), A.K. Burns: Shabby but Thriving (2017), and Trigger: Gender as a Tool and a Weapon (2017), among other projects.
She is the editor of Cindy Sherman (October Files, MIT Press, 2006); coeditor, with Shannon Jackson and Dominic Willsdon, of Public Servants: Art and the Crisis of the Common Good (New Museum/ MIT, 2016); coeditor, with Reina Gossett and Eric A. Stanley, of Trap Door: Trans Cultural Production and the Politics of Visibility (New Museum/MIT, 2018); and coeditor, with Lisa Phillips, Alicia Ritson, and Kate Wiener, of Out of Bounds: The Collected Writings of Marcia Tucker (Getty Research Institute, 2019).
Prior to joining the Wexner Center, Burton held curatorial and educational positions at the New Museum, the Center for Curatorial Studies at Bard College, and the Whitney Museum's Independent Study Program. Burton was a Center for Curatorial Leadership Fellow in 2019.
Marla C. Berkowitz is a senior lecturer in the American Sign Language (ASL) Program at Ohio State and has national certification with the ASL Teachers Association (ASLTA) and Registry of Interpreters for the Deaf (RID) and a state certification with the Supreme Court of Ohio in court interpreting. Marla coauthored Deaf and Hearing Siblings in Conversation, the first text to document the dynamics of deaf and hearing adult sibling relationships from their perspectives.
Cosponsored by Ohio State's Department of Art's Visiting Artist Program and the Wexner Center for the Arts with support from Ohio State's American Sign Language Program and ADA Coordinator's Office. The Wex strives to host inclusive, accessible events that enable all individuals, including individuals with disabilities, to engage fully. If you require an accommodation to participate in this event, please contact Accessibility Manager Helyn Marshall at accessibility@wexarts.org or via telephone at (614) 688-3890. Requests made by September 18 will generally allow us to provide seamless access, but the Wexner Center for the Arts will make every effort to meet requests made after this date.
-----------------------------------------------------------------------------------
Archive = FAIL 
// Thursday, October 15th, 7pm 
Live streaming through Wexner Center for the Arts website; Register here.
Block Out the Sun, 2019, detail; Image courtesy of the artist
Institutional repositories, archives, and museums are tasked with housing cultural collections, framing narratives and creating research opportunities for future generations. What happens when the holes, blank spots, mislabeled categories, and margins of an archive reveal more about who isn't included in a national story? Syjuco will share recent projects drawing on research from online databases, internet searches, civic libraries, and museum archives. At stake is how archives (and images) function to reinforce and reinscribe existing power structures, creating barriers for placing oneself into the line of history.
Stephanie Syjuco works in photography, sculpture, and installation, moving from handmade and craft-inspired mediums to digital editing and archive excavations. Recently, she has focused on how photography and image-based processes are implicated in the construction of racialized, exclusionary narratives of history and citizenship. She was a 2019 Smithsonian Artist Research Fellow at the National Museum of American History in Washington DC. Recent exhibitions include "Being: New Photography" at MoMA; "Public Knowledge," at SFMOMA; "Rogue States," at the Contemporary Art Museum St. Louis; and "Disrupting Craft" at the Smithsonian Renwick Museum. She lives and works in Oakland, California.
Upcoming:
The Visible Invisible (solo exhibition), Blaffer Art Museum, Houston, TX, Oct. 2020 - Jan. 2021.
Never Done: 100 Years of Women in Politics and Beyond, Tang Teaching Museum, Skidmore College, NY, Sept. 17, 2020 - June 6, 2021
Baltimore Museum of Art (solo exhibition), Feb. 2021
University of Hawaii at Manoa (solo exhibition), Feb. 2021
Catharine Clark Gallery (solo exhibition), San Francisco, CA, Feb. 2021
"I AM AN...", Cantor Art Center, Stanford University, Stanford, California., Dec. 2018 - mid-2019
Moderators: Carmen Winant and Courtney Hunt  
Carmen Winant is a visual artist and writer, and is the Roy Lichtenstein Chair in the Art Studio Department at The Ohio State University and former Dean of the Skowhegan School of Painting and Sculpture. She received her BA from UCLA and Masters degrees in Critical Studies and Fine Arts from the California College of the Arts in San Francisco, CA in 2011. She has participated in exhibitions at the Museum of Modern Art (NY), Sculpture Center (NY), The Wexner Center for the Arts, MoCA Cleveland, and The Columbus Museum of Art. Winant has also curated a performative lecture series, titled Practice, at COR&P (Columbus), 356 Mission (LA), MoMA PS1, and Regina Rex (NY). She has published two artists books, My Life as a Man with Horses Think Press, and My Birth, with ITI Press and SPBH Editions.
Courtney Hunt is the Art & Design Librarian at The Ohio State University, an assistant professor at The Ohio State University Libraries, and serves as the point of contact for the Fine Arts Library in the Wexner Center for the Arts. She provides innovative instruction and research consultation for the departments of Art, Arts Administration, Education & Policy, Design, and History of Art, as well as members of the public and independent researchers. Recently featured in "What Our Members Are Saying" on the Art Libraries Society of North America's website, Hunt is an active member of the society, serving on the Professional Development Committee, and volunteering as a blog editor for ArLiSNAP, the student and new professional division of the association. Hunt takes great care in creating a welcoming and empowering space for students, faculty, artists and researchers. She received a Master of Arts in History of Art & Architecture from Hunter College and a Master of Science in Information Sciences (M.S.I.S.) at the University of Tennessee at Knoxville. She received her bachelor's degree in Art History at Winthrop University.
-----------------------------------------------------------------------------------
TOMASHI JACKSON IN CONVERSATION WITH NIA K. EVANS, PRENTISS HANEY, LISA OWENS, AND MARSHALL SHORTS: I Want to Be Free
//Monday, Nov. 9 at 7pm
Online: Free for all audiences (RSVP required)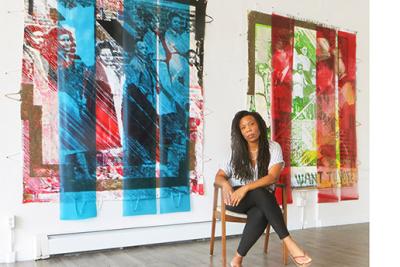 Image: Tomashi Jackson in front of Is Anybody Gonna Be Saved? (1948 Middle of Voter Registration Line) (1965 Abernathy and King Watch the Signing of the Act), 2020, and Contradiction (1948 Head of Voter Registration Line) (1965 Clarence Mitchell, Patricia Roberts Harris, and Others Watch the Signing of the Act), 2020. Photographer: Joshi Radin Flores.
Don't miss an insightful post-election dialogue with this group of artists, activists, organizers, scholars, and change-makers.
Multidisciplinary artist Tomashi Jackson (whose work is currently on view in our galleries in Love Rollercoaster), joins Nia K. Evans, Director, Boston Ujima Project; Prentiss Haney, Co-Executive Director, Ohio Organizing Collective; Lisa Owens, Executive Director, City Life/Vida Urbana; and Marshall Shorts, Principal, Artfluential for an lively conversation and Q&A moderated by Wex Director of Learning and Public Practice, Dionne Custer Edwards.
This timely dialogue will dive into a host of pressing issues, centering narratives of Black identity, art and making, democracy, politics, activism, labor, liberation, history, healing, and joy.
BIOS:
Tomashi Jackson identifies as a painter and printmaker, yet her works are often three-dimensional, made up of layers of paper, textiles, plastics, embroidery, prints, photo transfers, wood armatures, and more—all of which revolve around tight, ethically driven humanist narratives and research. Her research-laden pieces connect history and archives with the current moment. Recently, she's addressed the displacement and disenfranchisement of Black and brown communities; previously, her works examined segregation in the U.S. A standout artist of the 2019 Whitney Biennial, her works are in the collections of major institutions, including the Whitney and the Museum of Contemporary Art, Los Angeles. Jackson is featured in The Artsy Vanguard 2020.
Nia K. Evans is the Director of the Boston Ujima Project. Her educational background is in the areas of labor relations, education leadership, and policy. Her advocacy includes a focus on eliminating barriers between analysts and people with lived experiences, as well as increasing acknowledgement of the value of diverse types of expertise in policy. She is a co-creator of Frames Debate Project, a multimedia policy debate project that explores the intersection between drug policy, mental health services, and incarceration in the state of Massachusetts. Ms. Evans has a BS in Industrial and Labor Relations from Cornell University and a Master of Arts in Education Leadership, with a course of study in Leadership, Policy, and Politics from Teachers College at Columbia University. She also studied abroad at the University of New South Wales in Sydney, Australia, where she focused on International Labor Relations.
Prentiss Haney is a community organizer, artist, and the co-executive Director at Ohio Organizing Collaborative, an innovative statewide organization that unites community organizing groups, labor unions, faith organizations, and policy institutes to build a transformative base of power to achieve social, racial, and economic justice in Ohio. Haney started with Organizing for America, registering students and building campus teams across the state. He then joined Ohio Student Association to continue building student power, serving in various capacities from training coordinator to regional team lead, communication director, and more. He has trained hundreds of young leaders in grassroots organizing and led racial justice and higher education campaigns across the state. Haney has a BA in Urban Affairs, Wright State University, and currently lives in Cincinnati, Ohio.
Lisa Owens is the Executive Director of the housing justice organization City Life/Vida Urbana, which builds the power and leadership of working class communities, particularly communities of color, to work for social, racial, economic, and gender justice. Their work is to stop the displacement of working-class communities through "the sword" (community organizing and public pressure), "the shield" (coordinated legal defense), and "the offer" (community ownership of land and housing). At City Life, she actively fights for bold tenant protection policies and the expansion of anti-displacement community land trusts in Massachusetts. Owens has been actively involved in building grassroots organizations and supporting emerging leaders for more than twenty-five years. A seasoned popular educator, she also teaches courses on structural racism, social welfare policy, participatory action research, and leading social justice nonprofit organizations. She serves on the boards of several organizations connected to community control of land and housing.
Marshall Shorts is a creative director and designer in Columbus, Ohio by way of Cleveland. He is the founder of Artfluential (formerly Soulo Theory Creative), a design consultancy that brings culturally informed creative direction, strategy, and design to small businesses, agencies, and creatives. He's also a co-founder of Creative Control Fest, an annual conference and platform that centers creatives of color and advocates for diversity within the creative class. As an adjunct professor at his alma mater, Columbus College of Art and Design, Shorts's passion for design is only rivaled by his commitment to being a community resource and advocate for artists, students, and Black entrepreneurs.
-----------------------------------------------------------------------------------
EARLONNE WOODS AND NIGEL POOR IN CONVERSATION: Ear Hustle and the Power of Listening
// Friday, Nov. 13 at 3PM
Stream Online: Free for all audiences (with RSVP)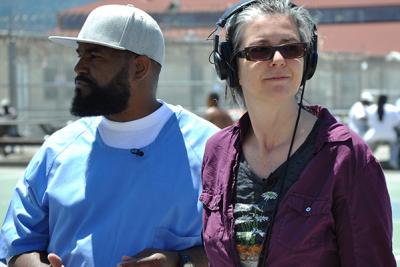 Image: Earlonne Woods and Nigel Poor; Photo: Eddie Herena
Cosponsored by the Wexner Center for the Arts and Ohio State's Department of Art's Visiting Artist Program and Global Arts + Humanities Discovery Theme with support from Healing Broken Circles and the Ohio Prison Arts Connection.
Join us for a behind-the-scenes look at how the prison-based podcast Ear Hustle came to be with cofounders Earlonne Woods and Nigel Poor.
Woods and Poor will give a brief overview of the podcast from conception to launch, and talk about the importance of asking questions and compassionate listening. The podcast, which was a finalist for a Pulitzer Prize in audio recording, is the first podcast created and produced in prison.
The conversation will be followed by a moderated Q&A with Ohio State faculty Tiyi Morris (Associate Professor of African American and African Studies) and Mary Thomas (Associate Professor in the Department of Women's, Gender, and Sexuality Studies).
BIOS:
Nigel Poor is a visual artist whose work explores the various ways people make a mark and leave behind evidence of their existence. Her work has been shown at: San Jose Museum of Art, Institute of Contemporary Art, San Jose, Friends of Photography, SF Camerawork, San Francisco Museum of Modern Art, the San Diego Museum of Contemporary Art, Museum of Photographic Arts, San Diego, Corcoran Gallery of Art, Washington, D.C. Her work is in the collections of the SFMOMA, the M.H. deYoung Museum, San Diego Museum of Contemporary Art and Corcoran Gallery of Art. She received her BA from Bennington College and her MFA from Massachusetts College of Art and is a Professor of Photography at CSU Sacramento. In 2011, Nigel got involved with San Quentin State Prison as a volunteer teacher for the Prison University Project. In 2013 she started working with a group of incarcerated men producing audio stories and in 2015 she co-created the prison-based podcast Ear Hustle.
Earlonne Woods is the Co-creator, Co-producer and Co-host of the Pulitzer nominated podcast Ear Hustle. Upon his release from San Quentin, Earlonne was hired full time to continue the work started inside but also adding reentry stories. Earlonne is also involved in the Repeal California's Three Strike Coalition which aims to end California's draconian three strikes law.