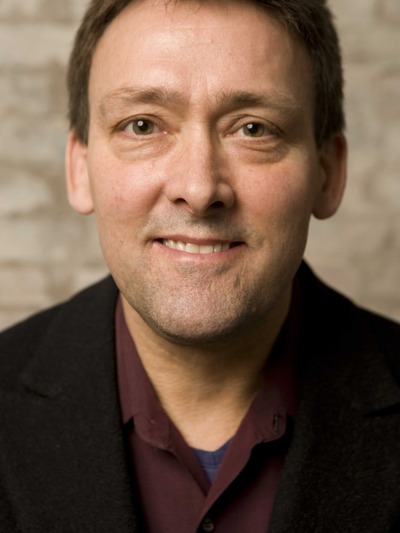 Education
MFA, San Francisco State University
Professor Rinaldo heads the art and technology program of the Department of Art. He is an artist, theorist, curator, and teacher who creates interactive multimedia installations. His recent works include Augmented Fish Reality a commission of the European Union which allows Siamese Fighting fish to move their robotic fish tanks around the room under their control. Autopoiesis, an interactive artificial life robotic series was commissioned by the Kiasma Museum in Finland 2000. Development of this series employs artificial life programming to manifest evolved behaviors over time, of 15 interacting robotic sound sculptures.
His works have been commissioned and displayed nationally and internationally at museums and galleries such as: The Biennale of Electronic Arts Perth Australia, Exit Festival France, Transmediale Berlin, Germany, ARCO Arts Festival Madrid, Spain, The OK Center for Contemporary Art, ARS ELECTRONICA, Austria; The Kiasma Museum of Contemporary Art, Helsinki, Finland; The Museum of Contemporary Art, Chicago; V2 Dutch Electronica Arts Festival, Rotterdam, Holland; Image Du Future, Montreal; Siggraph, Los Angeles and The Exploratorium, San Francisco.
He was the recipient of first prize for Avida 3.0 2001, an international competition on Artificial life and an award of Distinction from Ars Electronica Austria in 2004 for the work Augmented Fish Reality. He has received numerous grants and awards including an Ohio Arts Council Grant.
Rinaldo's work has been reviewed and edited in numerous publications and books including: Digital Art by Christiane Paul, Contemporary, Art Press, Paris; Tema Celeste Contemporary Art, Italy; Circa Magazine, Ireland; New York Arts Magazine; Wired, Intercommunication #7, a Critical Anthology of Interactive Artists, Japan. Rinaldo's work has been featured on TV and radio internationally as well as a special segment on The Knowzone a Syndicated television show on the Arts and Sciences.
Rinaldo teaches interactive robotic sculpture and video installation, 3D modeling and rapid prototyping and motion graphics for video and animation.
People Filters: