February 3, 2020
When an object reaches for your hand
Image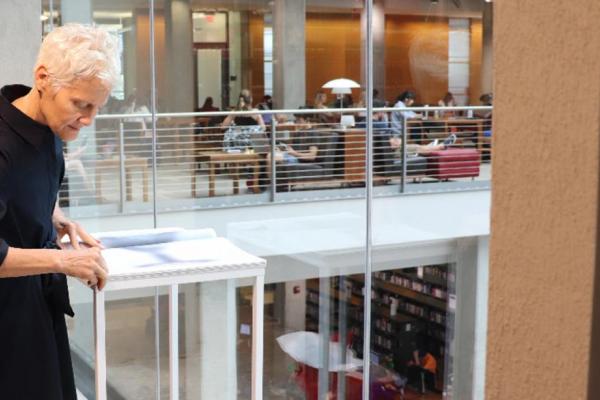 Description
September 21, 2019 - April 28, 2020
Exhibit Hours: 8:00 AM - 10:00 PM
Thompson Library Stacks Tower
Second Floor – Fourth Floor Mezzanine
Ann Hamilton, Distinguished University Professor in the Department of Art, developed the project when an object reaches for your hand for display in The Thompson Library. The book-form stacks, displayed on tables by the windows of Thompson's stacks tower, are the culmination of a yearlong collaboration between the Wexner Center for the Arts and The Ohio State University Libraries.
Hamilton, graduate students and studio assistants worked with Ohio State special collections staff to scan objects in the archives rarely seen by the public. These collections include the Orton Geological Museum, Historic Costume and Textiles Collection, Billy Ireland Cartoon Library & Museum, University Archives, Byrd Polar and Climate Research Center Archival Program, Museum of Biological Diversity, Health Sciences Library, and Rare Books and Manuscripts Library.
Visitors are encouraged to take prints from the stacks, either for themselves or to share at the mailing station on the first floor of the library. 
---