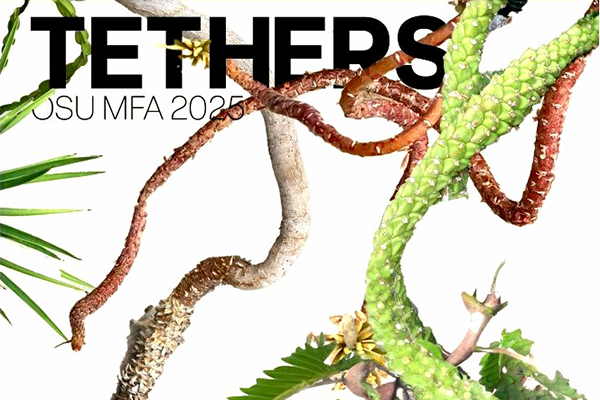 September 22, 2023
4:00PM - 6:00PM
OSU Biological Sciences Greenhouse
Add to Calendar
2023-09-22 16:00:00
2023-09-22 18:00:00
Tethers, 2nd-Year MFA Show, Opening Event
The MFA class of 2025 would like to invite you to the opening of our second-year show, Tethers, at the OSU Biological Sciences Greenhouse. The opening will be from 4-6 pm on Friday, September 22nd.  Tethering conjures imagery of maintaining stability and certainty or restricting movement. Tethers can also be a line of connection between each other, between the world and ourselves, between the earth and its plants, and the strings connecting it all. In this exhibition, we consider the environment of the greenhouse as a space where, like the roots and the vines, our many ties can be held together and exist simultaneously. The show features artists Mandy Darrington, Annelise Duque, William Evans, Breana Hendricks, Josiah Jamison, Matty Machado, Andrew Mehall, Zachary Naylor, Ivan Ng, Julian Robbins, Isabella Saraceni, Alex Trippe and James Waite.  After the opening on September 22, Tethers will be on view from September 25 to October 6, Monday through Friday, from 9-4 pm.  Directions: The greenhouse entrance is located on the ground floor of the northeast corner of the 12th Avenue Parking Garage. Take the elevator up to the 7th floor to the greenhouse level. https://bioscigreenhouse.osu.edu/about/map-and-directions
OSU Biological Sciences Greenhouse
OSU ASC Drupal 8
ascwebservices@osu.edu
America/New_York
public
Date Range
Add to Calendar
2023-09-22 16:00:00
2023-09-22 18:00:00
Tethers, 2nd-Year MFA Show, Opening Event
The MFA class of 2025 would like to invite you to the opening of our second-year show, Tethers, at the OSU Biological Sciences Greenhouse. The opening will be from 4-6 pm on Friday, September 22nd.  Tethering conjures imagery of maintaining stability and certainty or restricting movement. Tethers can also be a line of connection between each other, between the world and ourselves, between the earth and its plants, and the strings connecting it all. In this exhibition, we consider the environment of the greenhouse as a space where, like the roots and the vines, our many ties can be held together and exist simultaneously. The show features artists Mandy Darrington, Annelise Duque, William Evans, Breana Hendricks, Josiah Jamison, Matty Machado, Andrew Mehall, Zachary Naylor, Ivan Ng, Julian Robbins, Isabella Saraceni, Alex Trippe and James Waite.  After the opening on September 22, Tethers will be on view from September 25 to October 6, Monday through Friday, from 9-4 pm.  Directions: The greenhouse entrance is located on the ground floor of the northeast corner of the 12th Avenue Parking Garage. Take the elevator up to the 7th floor to the greenhouse level. https://bioscigreenhouse.osu.edu/about/map-and-directions
OSU Biological Sciences Greenhouse
Department of Art
art@osu.edu
America/New_York
public
The MFA class of 2025 would like to invite you to the opening of our second-year show, Tethers, at the OSU Biological Sciences Greenhouse. The opening will be from 4-6 pm on Friday, September 22nd. 
Tethering conjures imagery of maintaining stability and certainty or restricting movement. Tethers can also be a line of connection between each other, between the world and ourselves, between the earth and its plants, and the strings connecting it all. In this exhibition, we consider the environment of the greenhouse as a space where, like the roots and the vines, our many ties can be held together and exist simultaneously.
The show features artists Mandy Darrington, Annelise Duque, William Evans, Breana Hendricks, Josiah Jamison, Matty Machado, Andrew Mehall, Zachary Naylor, Ivan Ng, Julian Robbins, Isabella Saraceni, Alex Trippe and James Waite. 
After the opening on September 22, Tethers will be on view from September 25 to October 6, Monday through Friday, from 9-4 pm. 
Directions: The greenhouse entrance is located on the ground floor of the northeast corner of the 12th Avenue Parking Garage. Take the elevator up to the 7th floor to the greenhouse level. https://bioscigreenhouse.osu.edu/about/map-and-directions
Events Filters:
---