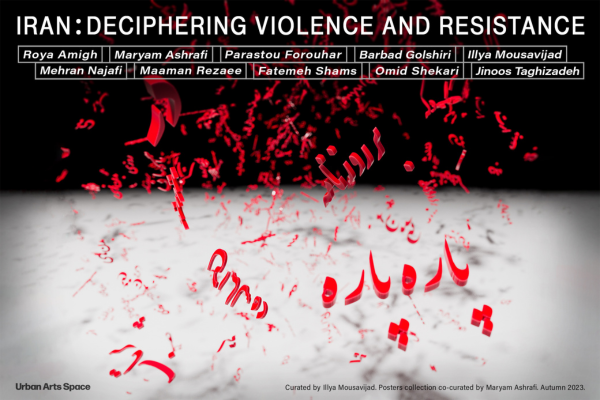 September 26 - November 18, 2023
12:00PM - 1:00PM
Urban Arts Space, 50 W Town St, Suite 130, Columbus, OH 43215
Add to Calendar
2023-09-26 12:00:00
2023-11-18 13:00:00
Iran: Deciphering Violence and Resistance
The violent arrest and murder of Mahsa (Jina) Amini, a 22-year-old Kurdish-Iranian woman, by the Morality Police of the Islamic Republic in September 2022—allegedly for "improperly wearing her Hijab"—ignited an unprecedented women-led revolutionary movement, which has unfolded intersectional discrimination and injustice against marginalized bodies under the oppressive rule of the Islamic Republic. "Woman, Life, Freedom" emerged as an intersectional slogan with deep roots in the grassroots activities of Kurdish women of the region to voice Iran's feminist battle against Islamic Fascism, a system that has been depriving women of their basic human rights for decades. Since September 2022, the demands of the protesters have reached beyond freedom of choice for the dress code and have extended to include people's frustration with ecological disasters, economic distress, political suppression, and systematic marginalization of religious and racial minorities across the nation. "Iran: Deciphering Violence and Resistance" is a curated interdisciplinary exhibition featuring 10 artists and activists of varied disciplines living in and away from Iran. Through painting, poetry, photography, video, film, animation, installation, and music, this exhibition provides an arrangement of the featured artists' associative and real perspectives on the Iranian identity in its complex experience with systematic violence, institutionalized misogyny, gendered and ethnic marginalization, forceful migration, and exile, with a reflection on the very limits of language in articulating the conditions of collective traumas. This exhibition also includes a growing and traveling collection of numerous posters designed by over 48 artists. Many of these artists were introduced by Iranian Women of Graphic Design. The traveling journey of this collection began from "Halle Saint Pierre" in Paris, with the support of OPEN ASIA|Armanshahr Foundation, 40Braids, and the International Federation for Human Rights (FIDH), during March 2023. The collection continued its journey to Sarajevo as part of the WARM festival in July 2023.  Curated by Illya Mousavijad. Posters collection co-curated by Maryam Ashrafi. Autumn 2023.     Participating Artists' names in alphabetical order:  Roya Amigh, Maryam Ashrafi, Parastou Forouhar, Barbad Golshiri, Illya Mousavijad, Mehran Najafi, Maaman Rezaee, Fatemeh Shams, Omid Shekari, Jinoos Taghizadeh
Urban Arts Space, 50 W Town St, Suite 130, Columbus, OH 43215
OSU ASC Drupal 8
ascwebservices@osu.edu
America/New_York
public
Date Range
Add to Calendar
2023-09-26 12:00:00
2023-11-18 13:00:00
Iran: Deciphering Violence and Resistance
The violent arrest and murder of Mahsa (Jina) Amini, a 22-year-old Kurdish-Iranian woman, by the Morality Police of the Islamic Republic in September 2022—allegedly for "improperly wearing her Hijab"—ignited an unprecedented women-led revolutionary movement, which has unfolded intersectional discrimination and injustice against marginalized bodies under the oppressive rule of the Islamic Republic. "Woman, Life, Freedom" emerged as an intersectional slogan with deep roots in the grassroots activities of Kurdish women of the region to voice Iran's feminist battle against Islamic Fascism, a system that has been depriving women of their basic human rights for decades. Since September 2022, the demands of the protesters have reached beyond freedom of choice for the dress code and have extended to include people's frustration with ecological disasters, economic distress, political suppression, and systematic marginalization of religious and racial minorities across the nation. "Iran: Deciphering Violence and Resistance" is a curated interdisciplinary exhibition featuring 10 artists and activists of varied disciplines living in and away from Iran. Through painting, poetry, photography, video, film, animation, installation, and music, this exhibition provides an arrangement of the featured artists' associative and real perspectives on the Iranian identity in its complex experience with systematic violence, institutionalized misogyny, gendered and ethnic marginalization, forceful migration, and exile, with a reflection on the very limits of language in articulating the conditions of collective traumas. This exhibition also includes a growing and traveling collection of numerous posters designed by over 48 artists. Many of these artists were introduced by Iranian Women of Graphic Design. The traveling journey of this collection began from "Halle Saint Pierre" in Paris, with the support of OPEN ASIA|Armanshahr Foundation, 40Braids, and the International Federation for Human Rights (FIDH), during March 2023. The collection continued its journey to Sarajevo as part of the WARM festival in July 2023.  Curated by Illya Mousavijad. Posters collection co-curated by Maryam Ashrafi. Autumn 2023.     Participating Artists' names in alphabetical order:  Roya Amigh, Maryam Ashrafi, Parastou Forouhar, Barbad Golshiri, Illya Mousavijad, Mehran Najafi, Maaman Rezaee, Fatemeh Shams, Omid Shekari, Jinoos Taghizadeh
Urban Arts Space, 50 W Town St, Suite 130, Columbus, OH 43215
Department of Art
art@osu.edu
America/New_York
public
The violent arrest and murder of Mahsa (Jina) Amini, a 22-year-old Kurdish-Iranian woman, by the Morality Police of the Islamic Republic in September 2022—allegedly for "improperly wearing her Hijab"—ignited an unprecedented women-led revolutionary movement, which has unfolded intersectional discrimination and injustice against marginalized bodies under the oppressive rule of the Islamic Republic. "Woman, Life, Freedom" emerged as an intersectional slogan with deep roots in the grassroots activities of Kurdish women of the region to voice Iran's feminist battle against Islamic Fascism, a system that has been depriving women of their basic human rights for decades. Since September 2022, the demands of the protesters have reached beyond freedom of choice for the dress code and have extended to include people's frustration with ecological disasters, economic distress, political suppression, and systematic marginalization of religious and racial minorities across the nation.
"Iran: Deciphering Violence and Resistance" is a curated interdisciplinary exhibition featuring 10 artists and activists of varied disciplines living in and away from Iran. Through painting, poetry, photography, video, film, animation, installation, and music, this exhibition provides an arrangement of the featured artists' associative and real perspectives on the Iranian identity in its complex experience with systematic violence, institutionalized misogyny, gendered and ethnic marginalization, forceful migration, and exile, with a reflection on the very limits of language in articulating the conditions of collective traumas.
This exhibition also includes a growing and traveling collection of numerous posters designed by over 48 artists. Many of these artists were introduced by Iranian Women of Graphic Design. The traveling journey of this collection began from "Halle Saint Pierre" in Paris, with the support of OPEN ASIA|Armanshahr Foundation, 40Braids, and the International Federation for Human Rights (FIDH), during March 2023. The collection continued its journey to Sarajevo as part of the WARM festival in July 2023. 
Curated by Illya Mousavijad. Posters collection co-curated by Maryam Ashrafi. Autumn 2023.  
Participating Artists' names in alphabetical order: 
Roya Amigh, Maryam Ashrafi, Parastou Forouhar, Barbad Golshiri, Illya Mousavijad, Mehran Najafi, Maaman Rezaee, Fatemeh Shams, Omid Shekari, Jinoos Taghizadeh
Events Filters:
---