Image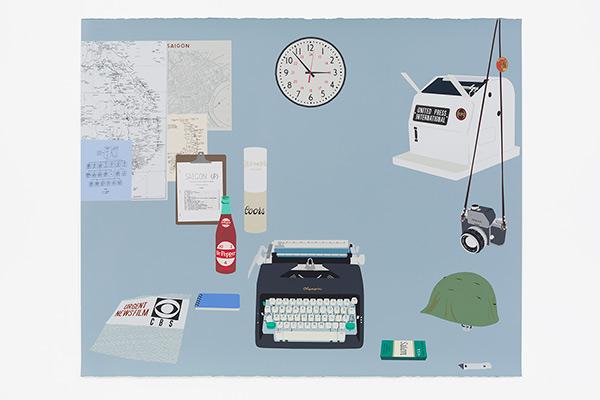 October 28, 2020
7:00PM - 8:00PM
Date Range
Add to Calendar
2020-10-28 19:00:00
2020-10-28 20:00:00
Visiting Artist Talk: Matthew Brannon
Image: Matthew Brannon "War Correspondent, Saigon 1967" 2016 52 x 67 inches silkscreen on paper with hand painted elements unique photo: Pierre Le Hors" Matthew Brannon (b. 1971, St. Maries, Idaho) has long been recognized not only for his wit and literary sensibility, but also for the precision with which he approaches his chosen mediums. He is perhaps best known for his radical approach to printmaking, which, contrary to traditional usage, frequently involves the elaborate production of unique artworks. The vocabulary and voice developed in the prints–arch and erudite, with a sharply psychoanalytic bent–has provided the center for an expanding world of objects and narratives that also includes painting, sculpture, video, and installation. Since 2015 Brannon has almost exclusively turned his attention to the Vietnam War, conducting exhaustive research for a profound engagement with this generation-defining trauma. In the multi-faceted works that emerge from this project, Brannon confronts the messy business of narrating history, creating his own versions of "primal scenes" in the American psyche. Brannon has been the subject of solo exhibitions at the Marino Marini Museum, Florence (2013); Portikus, Frankfurt (2012); Museum M, Leuven, Belgium (2010); Whitney Museum of American Art at Altria, New York (2007); and Art Gallery of York University, Toronto (2007). His work is in the permanent collections of numerous museums, including the Museum of Modern Art, New York; Whitney Museum of American Art, New York; Los Angeles County Museum of Art; Hammer Museum, Los Angeles; the Albright-Knox Art Gallery, Buffalo, NY; Denver Art Museum; DESTE Foundation for Contemporary Art, Athens; and Museo MADRE, Naples, Italy. In 2019 Gregory R. Miller & Co. published Concerning Vietnam, a book dedicated to Brannon's multiyear project investigating the Vietnam War. Brannon lives and works in New York.  This lecture is sponsored by The Global Discovery Theme Public Narrative Collaborative. Join meeting on Zoom: https://osu.zoom.us/j/97622166444?pwd=VlZQNFo1NHZWejdtQkVNeDc4ZHR6Zz09 Meeting ID: 976 2216 6444 Password: 706427
Zoom
OSU ASC Drupal 8
ascwebservices@osu.edu
America/New_York
public
Date Range
Add to Calendar
2020-10-28 19:00:00
2020-10-28 20:00:00
Visiting Artist Talk: Matthew Brannon
Image: Matthew Brannon "War Correspondent, Saigon 1967" 2016 52 x 67 inches silkscreen on paper with hand painted elements unique photo: Pierre Le Hors" Matthew Brannon (b. 1971, St. Maries, Idaho) has long been recognized not only for his wit and literary sensibility, but also for the precision with which he approaches his chosen mediums. He is perhaps best known for his radical approach to printmaking, which, contrary to traditional usage, frequently involves the elaborate production of unique artworks. The vocabulary and voice developed in the prints–arch and erudite, with a sharply psychoanalytic bent–has provided the center for an expanding world of objects and narratives that also includes painting, sculpture, video, and installation. Since 2015 Brannon has almost exclusively turned his attention to the Vietnam War, conducting exhaustive research for a profound engagement with this generation-defining trauma. In the multi-faceted works that emerge from this project, Brannon confronts the messy business of narrating history, creating his own versions of "primal scenes" in the American psyche. Brannon has been the subject of solo exhibitions at the Marino Marini Museum, Florence (2013); Portikus, Frankfurt (2012); Museum M, Leuven, Belgium (2010); Whitney Museum of American Art at Altria, New York (2007); and Art Gallery of York University, Toronto (2007). His work is in the permanent collections of numerous museums, including the Museum of Modern Art, New York; Whitney Museum of American Art, New York; Los Angeles County Museum of Art; Hammer Museum, Los Angeles; the Albright-Knox Art Gallery, Buffalo, NY; Denver Art Museum; DESTE Foundation for Contemporary Art, Athens; and Museo MADRE, Naples, Italy. In 2019 Gregory R. Miller & Co. published Concerning Vietnam, a book dedicated to Brannon's multiyear project investigating the Vietnam War. Brannon lives and works in New York.  This lecture is sponsored by The Global Discovery Theme Public Narrative Collaborative. Join meeting on Zoom: https://osu.zoom.us/j/97622166444?pwd=VlZQNFo1NHZWejdtQkVNeDc4ZHR6Zz09 Meeting ID: 976 2216 6444 Password: 706427
Zoom
Department of Art
art@osu.edu
America/New_York
public
Description
Image: Matthew Brannon "War Correspondent, Saigon 1967" 2016 52 x 67 inches silkscreen on paper with hand painted elements unique photo: Pierre Le Hors"
Matthew Brannon (b. 1971, St. Maries, Idaho) has long been recognized not only for his wit and literary sensibility, but also for the precision with which he approaches his chosen mediums. He is perhaps best known for his radical approach to printmaking, which, contrary to traditional usage, frequently involves the elaborate production of unique artworks. The vocabulary and voice developed in the prints–arch and erudite, with a sharply psychoanalytic bent–has provided the center for an expanding world of objects and narratives that also includes painting, sculpture, video, and installation. Since 2015 Brannon has almost exclusively turned his attention to the Vietnam War, conducting exhaustive research for a profound engagement with this generation-defining trauma. In the multi-faceted works that emerge from this project, Brannon confronts the messy business of narrating history, creating his own versions of "primal scenes" in the American psyche.
Brannon has been the subject of solo exhibitions at the Marino Marini Museum, Florence (2013); Portikus, Frankfurt (2012); Museum M, Leuven, Belgium (2010); Whitney Museum of American Art at Altria, New York (2007); and Art Gallery of York University, Toronto (2007). His work is in the permanent collections of numerous museums, including the Museum of Modern Art, New York; Whitney Museum of American Art, New York; Los Angeles County Museum of Art; Hammer Museum, Los Angeles; the Albright-Knox Art Gallery, Buffalo, NY; Denver Art Museum; DESTE Foundation for Contemporary Art, Athens; and Museo MADRE, Naples, Italy. In 2019 Gregory R. Miller & Co. published Concerning Vietnam, a book dedicated to Brannon's multiyear project investigating the Vietnam War. Brannon lives and works in New York.
 This lecture is sponsored by The Global Discovery Theme Public Narrative Collaborative.
Join meeting on Zoom:
https://osu.zoom.us/j/97622166444?pwd=VlZQNFo1NHZWejdtQkVNeDc4ZHR6Zz09
Meeting ID: 976 2216 6444
Password: 706427
---