Image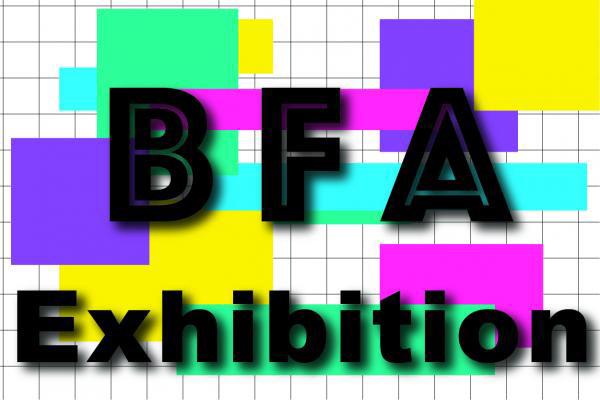 April 26 - May 7, 2021
11:00AM - 4:00PM
Location
Urban Arts Space
Date Range
Add to Calendar
2021-04-26 11:00:00
2021-05-07 16:00:00
Spring 2021 Senior Projects Exhibition: Department of Art BFA
An exhibition featuring the work of graduating art majors from The Ohio State University. The artists developed the work from a range of media and approaches during their courses of study at Ohio State. On view at Urban Arts Space Pre-registration is required to visit Urban Arts Space. Please schedule your visit at this link. A virtual reception will take place on May 8th at 5pm. Register for the Reception here.  Artists: Caeley Blechschmid Anna Bolek Francis Brogan Sarah Burger Jordan Chase Jialing Chen Jessica Chong Ben Conrad Zeinab Crispin Brooklyn Davis Sarah Davis Elijah Dodd Clare Faley Giancarlo Fiorenzo Chancis Green Jacob Gricar Saba Hashemi Shahraki Antwan Holland Hannah Jordan Jenna Josell Ayriana Kasper Bilal Khan Angel Lam Madison Larocque Wendy Liu Mayen McClain Zachary Nail Jet Ni Rebecca Noh Lyra Purugganan Lilly Rakas Kaylee Rose Spencer Rubinoski Natalie Seitz Caleb Sinchok Olivia Storey Joshua Trout Cassie Van Offeren Joey Wallace Amber Woodside Andrew Yeboah Addie Zeller Kara Zimmerman
Urban Arts Space
OSU ASC Drupal 8
ascwebservices@osu.edu
America/New_York
public
Date Range
Add to Calendar
2021-04-26 11:00:00
2021-05-07 16:00:00
Spring 2021 Senior Projects Exhibition: Department of Art BFA
An exhibition featuring the work of graduating art majors from The Ohio State University. The artists developed the work from a range of media and approaches during their courses of study at Ohio State. On view at Urban Arts Space Pre-registration is required to visit Urban Arts Space. Please schedule your visit at this link. A virtual reception will take place on May 8th at 5pm. Register for the Reception here.  Artists: Caeley Blechschmid Anna Bolek Francis Brogan Sarah Burger Jordan Chase Jialing Chen Jessica Chong Ben Conrad Zeinab Crispin Brooklyn Davis Sarah Davis Elijah Dodd Clare Faley Giancarlo Fiorenzo Chancis Green Jacob Gricar Saba Hashemi Shahraki Antwan Holland Hannah Jordan Jenna Josell Ayriana Kasper Bilal Khan Angel Lam Madison Larocque Wendy Liu Mayen McClain Zachary Nail Jet Ni Rebecca Noh Lyra Purugganan Lilly Rakas Kaylee Rose Spencer Rubinoski Natalie Seitz Caleb Sinchok Olivia Storey Joshua Trout Cassie Van Offeren Joey Wallace Amber Woodside Andrew Yeboah Addie Zeller Kara Zimmerman
Urban Arts Space
Department of Art
art@osu.edu
America/New_York
public
Description
An exhibition featuring the work of graduating art majors from The Ohio State University. The artists developed the work from a range of media and approaches during their courses of study at Ohio State.
On view at Urban Arts Space
Pre-registration is required to visit Urban Arts Space. Please schedule your visit at this link.
A virtual reception will take place on May 8th at 5pm. Register for the Reception here. 
Artists:
Caeley Blechschmid
Anna Bolek
Francis Brogan
Sarah Burger
Jordan Chase
Jialing Chen
Jessica Chong
Ben Conrad
Zeinab Crispin
Brooklyn Davis
Sarah Davis
Elijah Dodd
Clare Faley
Giancarlo Fiorenzo
Chancis Green
Jacob Gricar
Saba Hashemi Shahraki
Antwan Holland
Hannah Jordan
Jenna Josell
Ayriana Kasper
Bilal Khan
Angel Lam
Madison Larocque
Wendy Liu
Mayen McClain
Zachary Nail
Jet Ni
Rebecca Noh
Lyra Purugganan
Lilly Rakas
Kaylee Rose
Spencer Rubinoski
Natalie Seitz
Caleb Sinchok
Olivia Storey
Joshua Trout
Cassie Van Offeren
Joey Wallace
Amber Woodside
Andrew Yeboah
Addie Zeller
Kara Zimmerman
---