Image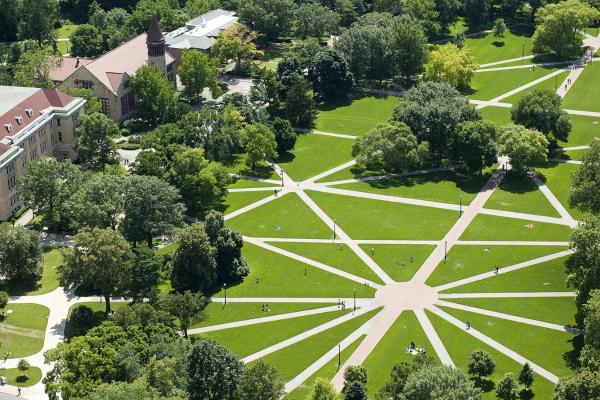 April 8, 2021
7:00PM - 8:00PM
Location
Register through Wexner Center for the Arts website
Date Range
Add to Calendar
2021-04-08 19:00:00
2021-04-08 20:00:00
Diversities in Practice Series: Carolyn Lazard & Constantina Zavitsanos
Carolyn Lazard and Constantina Zavitsanos (currently featured in Climate Changing) join us for the latest Diversities in Practice talk. They will share works and take part in a conversation with dancer and choreographer Alice Sheppard and others from the cross-disability arts community who will call in to discuss call-and-response art practices. Register here.  Carolyn Lazard is a multidisciplinary artist and writer based in Philadelphia and New York. They have exhibited work in various institutions including Palais de Tokyo, Paris, France; Kunstverein München, Munich, and Museum fur Moderne Kunst, Frankfurt, in Germany; MIT List Visual Arts Center, Cambridge, Massachusetts; Institute of Contemporary Art, Philadelphia; Yerba Buena Center for the Arts, San Francisco; Walker Art Center, Minneapolis; and The Whitney Museum of American Art, The Kitchen, and the New Museum in New York. With Constantina Zavitsanos and others, they coorganized the cross-disability arts events "I Wanna Be With You Everywhere" at Performance Space New York. Lazard has published writing in the Brooklyn Rail, Mousse Magazine, and Triple Canopy. They hold a BA from Bard College and an MFA from the University of Pennsylvania. Read more. Constantina Zavitsanos works in sculpture, performance, text, and sound to elaborate what's invaluable in the re/production of debt, dependency, and means beyond measure. Zavitsanos has exhibited at the Brooklyn Museum, New Museum, Artists Space, The Kitchen, and Participant Inc. in New York; at Arika in Glasgow, Scotland; and at Haus der Kulturen der Welt in Berlin, Germany. With Park McArthur, they coauthored "Other Forms of Conviviality" in Women and Performance (Routledge, 2013) and "The Guild of the Brave Poor Things" in Trap Door: Trans Cultural Production and the Politics of Visibility (MIT Press, 2017). With Carolyn Lazard and others, they coorganized the cross-disability arts events "I Wanna Be With You Everywhere" at Performance Space New York. Zavitsanos is a 2021 recipient of the Roy Lichtenstein Award in Visual Arts from the Foundation for Contemporary Arts. They live in New York and teach at the New School. Read more. Alice Sheppard resigned her tenured professorship to train with Kitty Lunn and Infinity Dance Theater. Sheppard joined AXIS Dance Company where she became a core company member, toured nationally, and taught in the company's education and outreach programs. Since becoming an independent dance artist, she has danced in projects with Ballet Cymru/GDance and Marc Brew Company in the United Kingdom. In the United States she has worked with Marjani Forté, MBDance, Infinity Dance Theater, and Steve Paxton. As a guest artist, she has danced with AXIS Dance Company, Full Radius Dance, and MOMENTA Dance Company.  Sheppard has also performed as a solo artist and keynote academic speaker throughout the United States. Sheppard is the founder and artistic lead for Kinetic Light, a project-based ensemble working at the intersections of disability, dance, design, identity, and technology to create transformative art and advance the intersectional disability arts movement. A USA Artist, Creative Capital grantee, and Bessie Award winner, she creates movement that challenges conventional understandings of disabled and dancing bodies while attending to the complex intersections of disability, gender, and race. Her writing has appeared in the New York Times, Catalyst, and Movement Research and Performance Journal. Read more. [Image Description: Two video stills are next to one another echoing each other with only slight differences in texture and minor shifts in color. The first still hosts a solid black background with white captions on a subtle dark grey block that state: "just tell me the details you do remember." The video still on the right hosts a dark rocky asphalt ground with flecks of mica; it feels like looking down at a road. Open captions in yellow read: "Tell me the details of what you do remember."]
Register through Wexner Center for the Arts website
OSU ASC Drupal 8
ascwebservices@osu.edu
America/New_York
public
Date Range
Add to Calendar
2021-04-08 19:00:00
2021-04-08 20:00:00
Diversities in Practice Series: Carolyn Lazard & Constantina Zavitsanos
Carolyn Lazard and Constantina Zavitsanos (currently featured in Climate Changing) join us for the latest Diversities in Practice talk. They will share works and take part in a conversation with dancer and choreographer Alice Sheppard and others from the cross-disability arts community who will call in to discuss call-and-response art practices. Register here.  Carolyn Lazard is a multidisciplinary artist and writer based in Philadelphia and New York. They have exhibited work in various institutions including Palais de Tokyo, Paris, France; Kunstverein München, Munich, and Museum fur Moderne Kunst, Frankfurt, in Germany; MIT List Visual Arts Center, Cambridge, Massachusetts; Institute of Contemporary Art, Philadelphia; Yerba Buena Center for the Arts, San Francisco; Walker Art Center, Minneapolis; and The Whitney Museum of American Art, The Kitchen, and the New Museum in New York. With Constantina Zavitsanos and others, they coorganized the cross-disability arts events "I Wanna Be With You Everywhere" at Performance Space New York. Lazard has published writing in the Brooklyn Rail, Mousse Magazine, and Triple Canopy. They hold a BA from Bard College and an MFA from the University of Pennsylvania. Read more. Constantina Zavitsanos works in sculpture, performance, text, and sound to elaborate what's invaluable in the re/production of debt, dependency, and means beyond measure. Zavitsanos has exhibited at the Brooklyn Museum, New Museum, Artists Space, The Kitchen, and Participant Inc. in New York; at Arika in Glasgow, Scotland; and at Haus der Kulturen der Welt in Berlin, Germany. With Park McArthur, they coauthored "Other Forms of Conviviality" in Women and Performance (Routledge, 2013) and "The Guild of the Brave Poor Things" in Trap Door: Trans Cultural Production and the Politics of Visibility (MIT Press, 2017). With Carolyn Lazard and others, they coorganized the cross-disability arts events "I Wanna Be With You Everywhere" at Performance Space New York. Zavitsanos is a 2021 recipient of the Roy Lichtenstein Award in Visual Arts from the Foundation for Contemporary Arts. They live in New York and teach at the New School. Read more. Alice Sheppard resigned her tenured professorship to train with Kitty Lunn and Infinity Dance Theater. Sheppard joined AXIS Dance Company where she became a core company member, toured nationally, and taught in the company's education and outreach programs. Since becoming an independent dance artist, she has danced in projects with Ballet Cymru/GDance and Marc Brew Company in the United Kingdom. In the United States she has worked with Marjani Forté, MBDance, Infinity Dance Theater, and Steve Paxton. As a guest artist, she has danced with AXIS Dance Company, Full Radius Dance, and MOMENTA Dance Company.  Sheppard has also performed as a solo artist and keynote academic speaker throughout the United States. Sheppard is the founder and artistic lead for Kinetic Light, a project-based ensemble working at the intersections of disability, dance, design, identity, and technology to create transformative art and advance the intersectional disability arts movement. A USA Artist, Creative Capital grantee, and Bessie Award winner, she creates movement that challenges conventional understandings of disabled and dancing bodies while attending to the complex intersections of disability, gender, and race. Her writing has appeared in the New York Times, Catalyst, and Movement Research and Performance Journal. Read more. [Image Description: Two video stills are next to one another echoing each other with only slight differences in texture and minor shifts in color. The first still hosts a solid black background with white captions on a subtle dark grey block that state: "just tell me the details you do remember." The video still on the right hosts a dark rocky asphalt ground with flecks of mica; it feels like looking down at a road. Open captions in yellow read: "Tell me the details of what you do remember."]
Register through Wexner Center for the Arts website
Department of Art
art@osu.edu
America/New_York
public
Description
Carolyn Lazard and Constantina Zavitsanos (currently featured in Climate Changing) join us for the latest Diversities in Practice talk. They will share works and take part in a conversation with dancer and choreographer Alice Sheppard and others from the cross-disability arts community who will call in to discuss call-and-response art practices.
Carolyn Lazard is a multidisciplinary artist and writer based in Philadelphia and New York. They have exhibited work in various institutions including Palais de Tokyo, Paris, France; Kunstverein München, Munich, and Museum fur Moderne Kunst, Frankfurt, in Germany; MIT List Visual Arts Center, Cambridge, Massachusetts; Institute of Contemporary Art, Philadelphia; Yerba Buena Center for the Arts, San Francisco; Walker Art Center, Minneapolis; and The Whitney Museum of American Art, The Kitchen, and the New Museum in New York. With Constantina Zavitsanos and others, they coorganized the cross-disability arts events "I Wanna Be With You Everywhere" at Performance Space New York. Lazard has published writing in the Brooklyn Rail, Mousse Magazine, and Triple Canopy. They hold a BA from Bard College and an MFA from the University of Pennsylvania. Read more.
Constantina Zavitsanos works in sculpture, performance, text, and sound to elaborate what's invaluable in the re/production of debt, dependency, and means beyond measure. Zavitsanos has exhibited at the Brooklyn Museum, New Museum, Artists Space, The Kitchen, and Participant Inc. in New York; at Arika in Glasgow, Scotland; and at Haus der Kulturen der Welt in Berlin, Germany. With Park McArthur, they coauthored "Other Forms of Conviviality" in Women and Performance (Routledge, 2013) and "The Guild of the Brave Poor Things" in Trap Door: Trans Cultural Production and the Politics of Visibility (MIT Press, 2017). With Carolyn Lazard and others, they coorganized the cross-disability arts events "I Wanna Be With You Everywhere" at Performance Space New York. Zavitsanos is a 2021 recipient of the Roy Lichtenstein Award in Visual Arts from the Foundation for Contemporary Arts. They live in New York and teach at the New School. Read more.
Alice Sheppard resigned her tenured professorship to train with Kitty Lunn and Infinity Dance Theater. Sheppard joined AXIS Dance Company where she became a core company member, toured nationally, and taught in the company's education and outreach programs. Since becoming an independent dance artist, she has danced in projects with Ballet Cymru/GDance and Marc Brew Company in the United Kingdom. In the United States she has worked with Marjani Forté, MBDance, Infinity Dance Theater, and Steve Paxton. As a guest artist, she has danced with AXIS Dance Company, Full Radius Dance, and MOMENTA Dance Company.  Sheppard has also performed as a solo artist and keynote academic speaker throughout the United States.
Sheppard is the founder and artistic lead for Kinetic Light, a project-based ensemble working at the intersections of disability, dance, design, identity, and technology to create transformative art and advance the intersectional disability arts movement. A USA Artist, Creative Capital grantee, and Bessie Award winner, she creates movement that challenges conventional understandings of disabled and dancing bodies while attending to the complex intersections of disability, gender, and race. Her writing has appeared in the New York Times, Catalyst, and Movement Research and Performance Journal. Read more.
[Image Description: Two video stills are next to one another echoing each other with only slight differences in texture and minor shifts in color. The first still hosts a solid black background with white captions on a subtle dark grey block that
state: "just tell me the details you do remember." The video still on the right hosts a dark rocky asphalt ground with flecks of mica; it feels like looking down at a road. Open captions in yellow read: "Tell me the details of what you do remember."]
---